WE ARE CLOSED FOR RESEARCH FOR THE TIME BEING - PLEASE CHECK BACK

Quarterly Conference or 
Local Church Records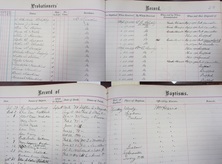 Records of local churches and charges which have been discontinued.
Note that records churches which have merged into continuing local churches are kept by the continuing local church.
---
Annual Conference or
 Regional Church Records
Records of the Baltimore-Washington Conference and its predecessors.
Note that some institutions such as the Board of Child Care and The American University maintain their own archives.

Quadrennial Conference or
 General Church Records


Records of General and Jurisdictional Conferences and of General Agencies, Boards and Commissions of the UMC and its predecessors are held in the General Church Archives at Drew University, New Jersey.
Episcopal (Bishop's) Papers are held here as well, and many memoirs of itinerant preachers have been digitized
---