---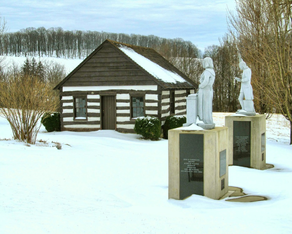 @the Strawbridge Shrine
December 11, 2016 at 4:00 PM
Advent Candlelight Worship Service

The Strawbridge Shrine (2650 Strawbridge Lane, New Windsor, Md.) will host its annual advent Candlelight Service on Sunday, December 11, at 4:30 PM. This worship service in the authentic re-creation of America's first Methodist house of worship, includes lessons and carols of the season. After the service, participants are welcome to tour the colonial era John Evans House and join in refreshment in the Visitor Center.
Our preacher this year is Rev. Dr. Douglas Tzan of Sykesville Parish (St. Paul's and Gaither) United Methodist Churches in Carroll County. A graduate of Iliff School of Theology in Denver and the University of South Carolina, he teaches at Wesley Theological Seminary and Boston University School of Theology and is an active member of the Shrine Association's board of directors.
Dr. Tzan is the author of The World His Circuit: The Methodist Odyssey of William Taylor, which was awarded the Jesse Lee Prize by the United Methodist General Commission on Archives & History last year. The prize is awarded only once every four years.
There is no charge for this evening and all are welcome.
For further information, contact the shine at 410-635-2600 or check online at
www.strawbridgeshrine.org/news--events
.
---